STOREFRONT
The Working Bikes storefront features all styles of bicycles for adults and kids, along with new and used accessories. We also stock a large selection of used, vintage, and hard-to-find parts, and Working Bikes gear!
All bicycles have been refurbished by our team of talented, experienced mechanics, and are sold with a limited 30-day warranty. We provide affordable options for all types of riders, with the average price for refurbished adult bikes ranging from $200-$300. Our stock is constantly changing! We recommend you visit us to see what we currently have available.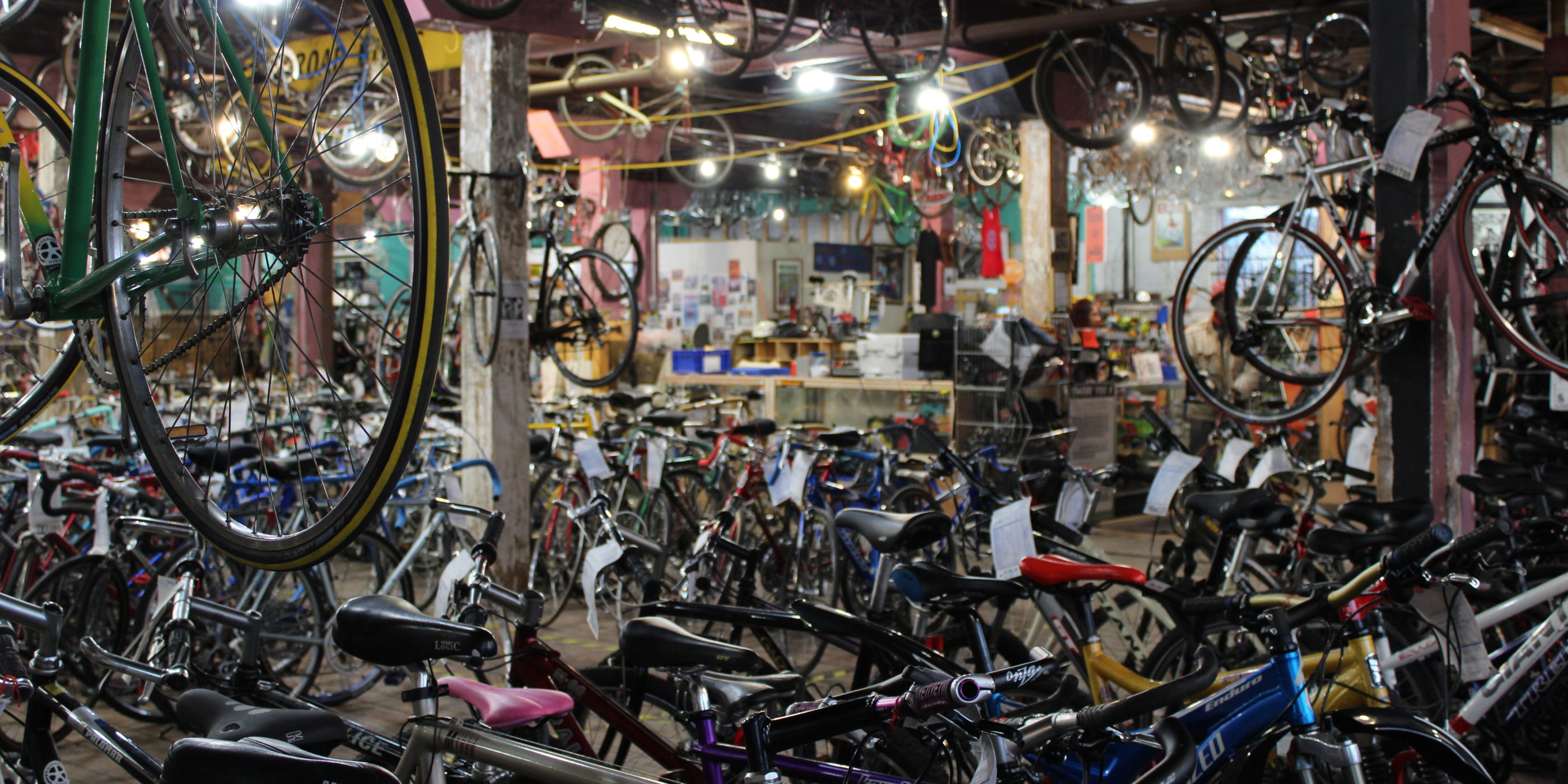 SERVICE DEPARTMENT
The secret to a long-lasting, functional bike? Routine maintenance! The Service Department is open during all business hours. Our mechanics offer free estimates and same-day services for most quick fixes. Working Bikes is also able to place special orders! Below is a list of basic services and tune-up prices. Working Bikes operates on a sliding scale, so the prices listed are estimates. The condition of the bicycle, and the price and availability of replacement parts may affect the final cost of service. If you have a specific question about a repair or a part, send us an email at [email protected].
Flat-fix $10 (includes tube)
Wheel Truing $15 single, $25 both
Install Rack $5
Install Fenders $10
Brake Adjustment $5 each
Bottom Bracket Adjustment $10
Hub Adjustment $5 each
Headset Adjustment $10
Shifter/Derailleur Adjustment $10 single, $20 both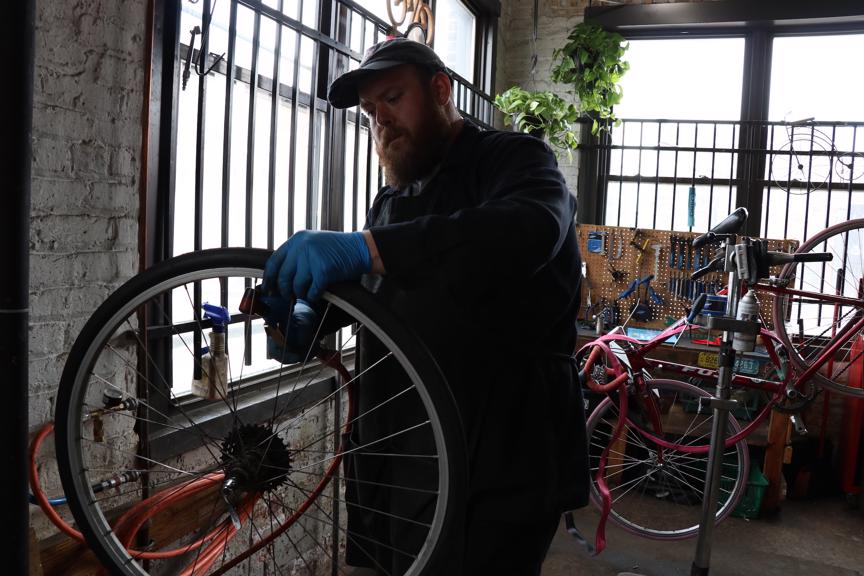 Working Bikes fills a specific niche in the Chicago bike shop scene, and encourages folks to check out the other great community bike shops in their neighborhood – like Wheel and Sprocket in Evanston, The Recyclery Collective in Rogers Park, Green Machine in Ravenswood, Uptown Bikes in Uptown, The Bike Lane in Logan Square, Bikes N' Roses in Belmont Cragin, BFF Bikes in Bucktown, Comrade Cycles and Ciclo Urbano in West Town, Wheel and Sprocket in Oak Park, Small Shop in Bronzeville, Blue City Cycles in Bridgeport, and Blackstone Bicycle Works in Hyde Park.
The WORKING BIKES STOREFRONT INSTAGRAM is the best place to find sweet deals on unique finds and cycling essentials. Plus, check out stories and highlights from our mechanics and customers.
ABOUT THE WORKING BIKES WAREHOUSE
Working Bikes has occupied various locations in our 20 year history. We were in the basement of a six flat in Pilsen, above a muffler shop in University Village, in a warehouse in Garfield Park, in a field on Goose Island, in a warehouse on Goose Island and finally at our present location. We moved into the brick warehouse at 2434 S Western in 2007, and have owned the property since 2019. With origins dating back to the late 1800s, the Working Bikes warehouse has been home to the Speed Changing Pulley Company, the Murphy Chair Company, the Thorkildsen-Mather Borax and Boric Acid Company, and even a Mexican imports/piñata store. 
We are proud to call the warehouse home, and want to make sure it will be around for another 20 years of Working Bikes! Make a contribution to the Founder's Facilities Fund to help support capital projects around the Working Bikes warehouse, including installing solar panels, tucking-pointing, and a community mural!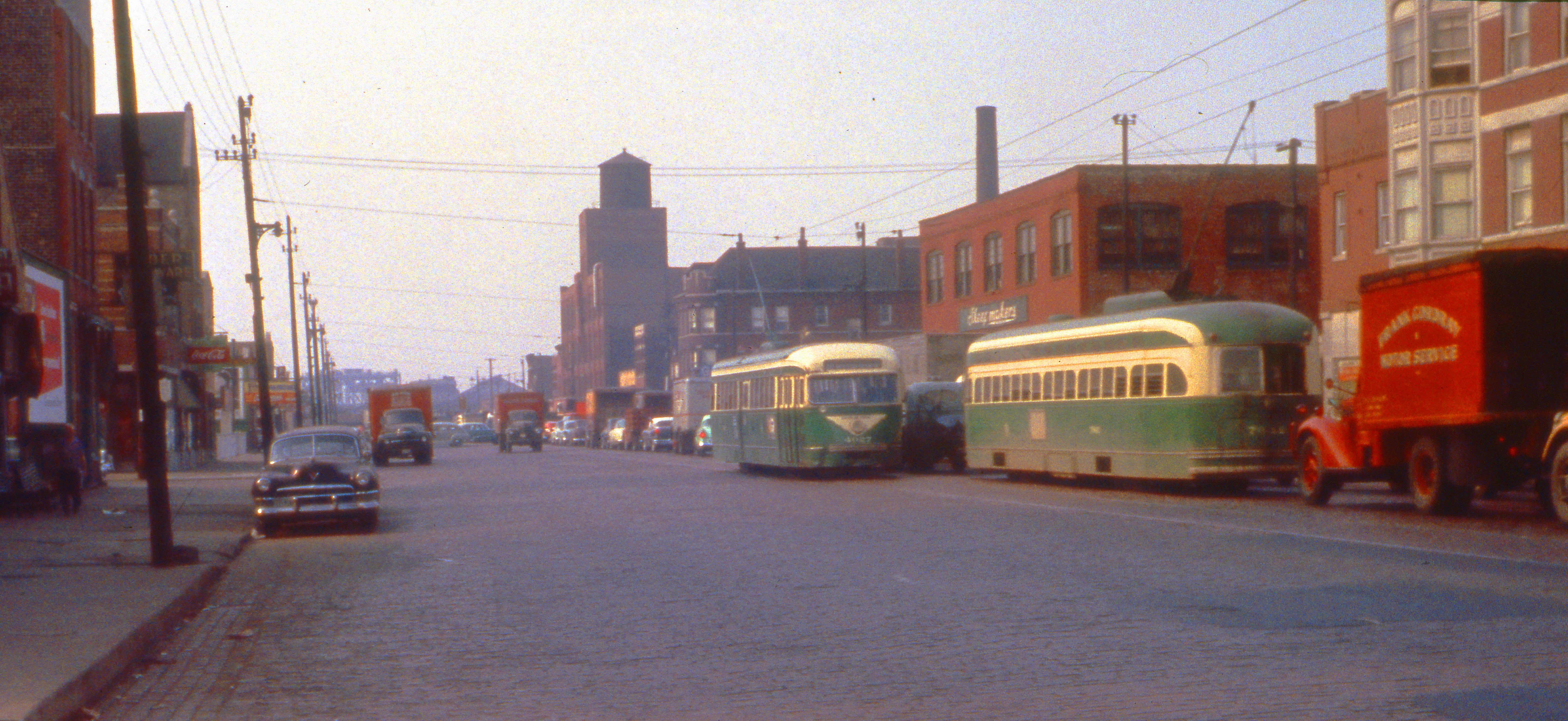 The Working Bikes building in 1956 – on the right hand side between the two trolleys! Back then, the WB warehouse was the "Sleep Makers" mattress factory. Photo courtesy of The Trolley Dodger.