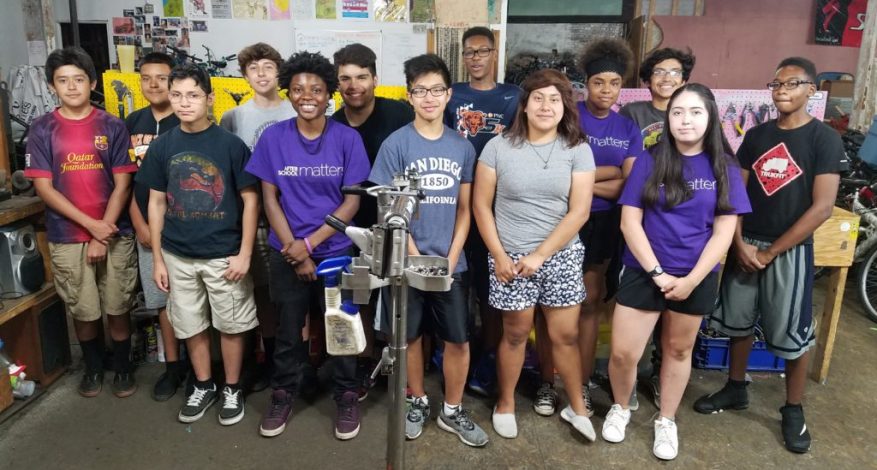 News
Andrew Bermudez on ASM Summer 2017
Volunteer Coordinator Andrew Bermudez instructed our first After School Matters program during the summer. With the pilot program's success Working Bikes intends to apply for the fall term. Andrew writes and shares his experience in ASM.
Working Bikes received funding by After School Matters to recruit 14 teenagers for a six-week paid apprenticeship. Our program's objectives were to generate excitement about bicycles by learning how to salvage, repair, and navigate our city with them. Students helped unload and efficiently organize secondhand bikes. They received demonstrations on how to use tools and lubricants to restore bikes for donation to local charities. The students removed functioning equipment from damaged frames for shipment to international relief organizations. Finally, they studied urban cycling rules and applied this knowledge during group rides.
ASM participants work together to fix a bike. Photo courtesy of Andrew Bermudez
The checklist used by volunteers to repair bikes was expanded into a curriculum. Before lessons the students were divided into pairs. They observed while I demonstrated the steps required to restore a bicycle. The students had two days to practice each step before I introduced new information. While the students worked, I circulated around the shop to answer questions and help. The lessons were supplemented by handouts that displayed the names of tools and bike anatomy. The participants were expected to keep orderly work benches and to clean up after themselves.
One challenge is that the condition of the bicycles we repair varies. Some are damaged, clean, dirty, or missing parts. This made instructing difficult, because the students all encounter slightly different problems. Therefore the amount of time I spend with each student was inconsistent.
In preparation for riding as a group, each student was assigned a page from the Safe Cycling in Chicago guidebook. They delivered short presentations covering Illinois Bike Laws, types of lanes, and locking technique. The participants were provided helmets which they learned how to properly fit and adjust. On our quiet side-street, they practiced weaving through cones to simulate debris in the road and learned to signal turns with their arms. Together we road to the Eleanor Boathouse in Bridgeport, iconic murals in Pilsen, the Garfield Park Conservatory, and Northerly Island. Mikela Pinkney co-lead these trips.
Posing for a quick picture during a ride. Photo courtesy of Andrew Bermudez
A highlight was watching a student quickly change a flat tire during a group bicycle ride. Our group had visited the Garfield Park Conservatory and was riding back to Working Bikes. After turning from Lake Street onto California Avenue the students began yelling to stop. Tyreese had a flat tire. This could have been caused by glass or other sharp debris. The group pulled over on the sidewalk. Several of Tyreese's peers offered to help. They steadied the bike and helped him remember the mechanical steps. In twenty minutes we were back on the road! It was fulfilling to watch Tyreese apply what he learned at the shop and receive support.