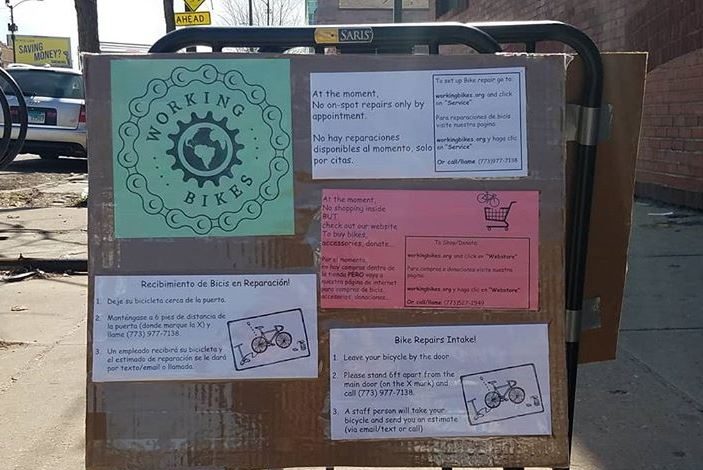 News
Shop Updates and How We're Keeping Folks Rolling
ESSENTIAL SERVICE UPDATE
The State has determined that bikes are an essential means of transportation. Therefore, bike shops will remain open during the shelter in place order, following certain safety measures.
Read on for further details.
SHOP CLOSURE AND SERVICE UPDATE
UPDATED FEBRUARY 2021: Working Bikes is closed to the general public. If you are interested in purchasing a refurbished bike, our full inventory of bikes, along with new accessories and gear, is available on our online store. Our Service Department will also be open for drop-off repair services and curbside pick-ups. Contact the Service Department with questions, or schedule an appointment to drop off your bike for service. Send questions to: [email protected], (773) 977-7138.
ONLINE STORE
Working Bikes wants to keep you all rolling, and we're doing it with the help of the world wide web! Our webstore is up and running, and though it used to be focused on the hard to find specialty bikes and parts around our warehouse, we will be adding some of inventory of the affordable refurbished bikes Working Bikes is known for, along with some parts and accessories everyday cyclists need. If you are looking for used parts, please email [email protected] or give us a call at (773) 527-2949. Folks interested in purchasing items from the webstore can schedule a curbside pick-up at our home base. Contact us with questions or to schedule a pick-up! [email protected].
RECEIVING DONATIONS
Working Bikes is open to receive donations Tuesday-Friday between 12pm-5pm and on Saturdays between 11am-3pm. Please give us a call or text us when you are outside so we can be sure to receive your donation! You can also check our list of partnering drop-off locations for a donation site that might be in your area.
LOCAL DONATIONS UPDATE
We believe in bikes as tools of empowerment, and through our local donation program we provide individuals in Chicago the transportation to access community resources. However, to keep people safe and to mitigate the spread of COVID-19 we will be changing up our Cycle of Power program and putting a temporary halt on having recipients into the warehouse for a bike pick-up and helmet fitting. We are working to find the best way to meet the needs of the people in Chicago who need transportation. One avenue we are exploring is donating bikes in service of delivery. Working Bikes is looking to collaborate with community groups and social service organizations who are working to deliver goods and medical supplies to folks who are homebound. If you have any suggestions for how we can best support people here in Chicago email us at [email protected].
VOLUNTEER ENGAGEMENT
We've reopened to volunteers but are requiring folks to sign up ahead of time. You can sign-up for a shift on the Volunteer Portal. Contact [email protected] with any questions. We also encourage folks that have at-home workshops to take a bike or two home to repair remotely. If you are interested in taking bikes home to repair on your own, contact [email protected].
EVENTS UPDATE
We love bringing folks together at Working Bikes, but now is not the time for gathering. All in-house events have been cancelled. However, we will still host our General Meetings remotely, with an option for electronic participation. We anticipate participating in several collection events this year, but will respond according to any updated safety guidelines. Please refer to our calendar for updates regarding upcoming bike drives.
We are so thankful for the amazing community of volunteers, patrons, donors, and staff that make-up Working Bikes. We will continue to keep everyone updated, but don't hesitate to reach out to us with questions. Be sure to follow-us on Facebook and Instagram for updates.
Stay well, wear a mask, and look out for one another.