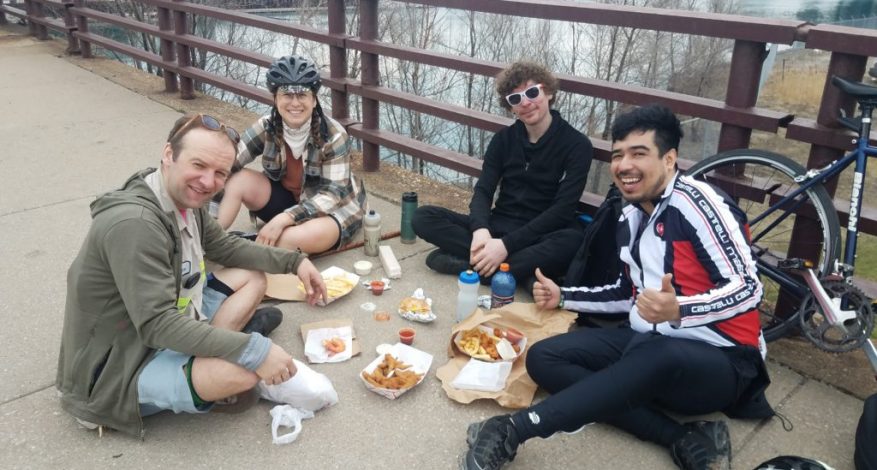 News
2019 Tour de Daffodil!
The first weekend of April, WB staff members Anna, Brian, Devon, Josh, and Trevor set out for a two-day bike adventure to the Indiana Dunes National Park! The group set off from the 31st Beach and made their first little stop at Calumet Fisheries for a late morning fish snack.
Once the group had their fill of fried shrimp, they started the ride in earnest. Their route took them round Wolf Lake and on through Hammond, IN, where they sought relief from the brief bit of rain that was in the forecast. From their shelter at Wicker Memorial Park, the riders took their second break of the ride, turning the trip into a mini pub crawl as they stopped at New Oberpfalz Brewing, Pokro Brewing Co, and Wildrose Brewing Co.
Their thirst thoroughly quenched, the group set off for the final leg of their trip, winding through Indiana until they arrived in Beverly Shores right and the Century of Progress Homes right at sunset! After Devon, Anna, and Trevor took a quick victory dip in the chilly waters of Lake Michigan, the riders settled in for the night.
The journey home was just as exciting and scenic. Taking a shorter route home, the group stopped for second breakfast/lunch at a small roadside dinner that had plenty of charm. The best surprise of the trip, however, was found just outside of Whiting, IN, across the street from the looming BP Refinery and Marktown. The heavily decorated and recently completed Mascot Hall of Fame was a highlight of the trip. Maybe the next destination for a WB staff ride?
The ride home from Whiting lead the riders through once more through Wolf Lake until they reached the familiar paths of the Lakefront Trail. Most of the group finished the trip looking a little more pink than when they left, and feeling refreshed after their first big ride of the season! It was a great little adventure before kicking off spring/summer hours!
Want to see more photos from the trip? Follow us on Facebook or Instagram!