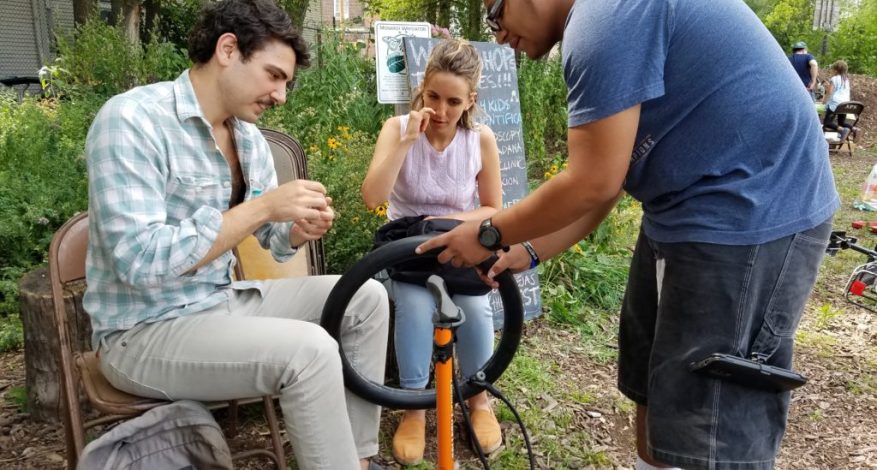 News
After School Matters Summer 2018 Report
Want to know what After School Matters is like at Working Bikes? Volunteer Coordinator Andrew Bermudez reports on his experience as the summer instructor for Working Bikes Youth Apprenticeship.
This summer was our second year hosting After School Matters apprenticeship. Ten students participated in the six-week program, with returning student Tiffany Anderson promoted to the role of program assistant.
There was no shortage of activities this summer. The teenagers helped prep bicycles for shipment to Malawi and Guatemala. When the loading dock was overflowing in July they rebuilt Kids' Bike Mountain to a quadruple stack of 20" bikes! In Brandon's Bike Shop the participants worked in pairs and learned each step of the repair checklist and restored children's bikes for local donation.
Professional development was also a focus as the teens were assigned pages from the Safe Cycling in Chicago handbook for which they delivered short presentations. Bike handling was emphasized through riding exercises such as signaling to motorists and shifting gears.
What's a bike program without rides? Our youth completed 8 field trips to El Paseo Community Garden, the Divvy bike share warehouse, Douglas Park Pool, 12th Street Beach (twice), and Navy Pier for a total of 60 miles behind bars!
We had an opportunity to collaborate with other ASM programs nearby. During the fourth week the Young Run Chi ASM program based in Barrett Park visited our bike shop. We divided into small groups and the Working Bikes youth taught the Young Run Chi teenagers 5 bicycle repair techniques.
The following day Young Run Chi hosted us at their program site and created an exciting obstacle course for everyone to complete! Spectators could attack competitors with squirt guns and water balloons. Everyone's speed was recorded, and the fastest athletes won a handmade trophy. It was a successful collaboration that introduced teenagers in both programs to more people in the community. Professional photographer Vanessa Bly was on site to capture the moment. More of her work can be found on Instagram and Facebook.
As a final product the apprentices led a Fix-a-Flat Tire workshop at Plant Chicago's Closed Loop Festival in Back of the Yards. As a group they delivered a presentation that explained the repair steps and provided advice. Afterward audience members were invited to try patching inner tubes with holes. Eight spectators were present including one participant's father. Our youth rode 8 miles to and from the festival and helped carry supplies. I feel that rehearsing this workshop strengthened the apprentice's confidence and oratory skill.
Each day began with an icebreaker and concluded with a reflection which incorporated social, emotional, and cognitive engagement. Most weeks the students had an opportunity to earn pieces of a mobile repair kit. By the end of the program each participant received tire levers, a patch kit, multi-tool, tail light, lock, and helmet.
Participants were invited to bring their own bicycle to repair on the last day of programming. Five people brought bikes. It was rewarding to see them apply what they learned during the apprenticeship to their own bicycles. Shout out to our mechanic John Clark for pitching in!
The program wasn't without its challenges, but overall was a positive, rewarding experience.
Working Bikes is planning to offer the apprenticeship this fall and is searching for a new instructor. The program runs October 1 – December 9. If you or someone you know is interested, please email [email protected].