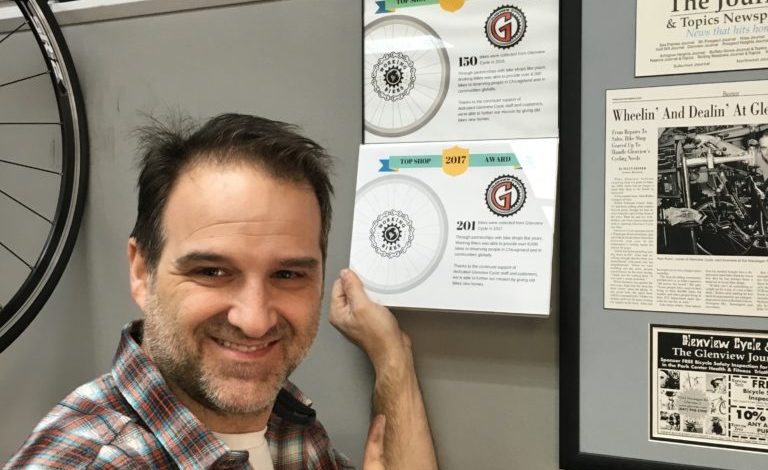 News
Working Bikes 2017 Top Shop Awardees
Early this spring we've been award 17 shop owners that use their space to collect over several dozen bikes in 2017.
Number of Bikes Collected from Each Drop-off Location
455 – Bicycles Etc., Lisle and Naperville
386 – George Garner Cyclery – Libertyville, Northbrook, and Lake Zurich
283 – Village CycleSport – Arlington Heights and Barrington
235 – Wheel & Sprocket – Evanston and Oak Park
201 – Glenview Cycle
180 – Epic Cycle and Fitness
147 – Green Bay Cycles
136 – Performance Bicycle Lombard
125 – Trek Bicycle Highland Park
125 – The Wheel Thing
105 – 7 Mile Cycle
93 – Cycle Smithy
88 – All Spoked Up
71 – Beverly Bike and Ski
62 – Performance Bicycle Lincoln Park
57 – REI Co-op Lincoln Park
57 – RRB Cycles Kenilworth
Working Bikes runs on the donations we receive so we're happy to acknowledge the shops that take the time to make their shops an accessible location for folks to donate bikes without folks needing to come all the way to our warehouse to donate bikes.
Know a bike shop in your area that could be our next drop off location? Contact us at [email protected] or call our shop at (773) 847-5440 to get your neighborhood bike shop to help support the cause.