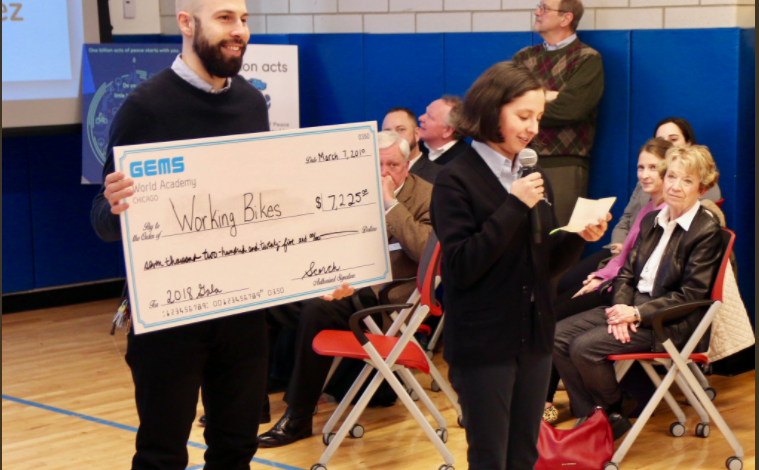 News
8th Graders Donate $7000 to Working Bikes!
We're super excited to announce this large donation from the amazing 8th grade class of GEMS Academy! Working Bikes is one of twelve charitable organizations selected by GEMS Academy as beneficiaries for their annual fundraising efforts!
GEMS aims to reinforce important values like generosity and volunteerism into their students. Students, parents, and the entire GEMS community work together to raise funds. Last year they raised over $3,400 for each of our chosen charities. This year the raised managed to raise over $86,000 total for all 12 charities, of which $7225 was given to Working Bikes. In addition to the money, the 8th-grade class held a bike drive for us on MLK day and got the full Working Bikes experience in Brandon's Bike Shop, our volunteer workspace.
Yesterday Andrew, our volunteer coordinator, attended their "big check" presentation to explain our mission and express our immense gratitude for their awesome hard work. Working Bikes is very proud to have been chosen by this amazing group of youth and we are always grateful to the Chicago community for supporting us in our efforts to spread goodwill to our local and global communities.
Learn more about GEMS World Academy here! Like to make a donation to Working Bikes? Learn how you can get involved today!