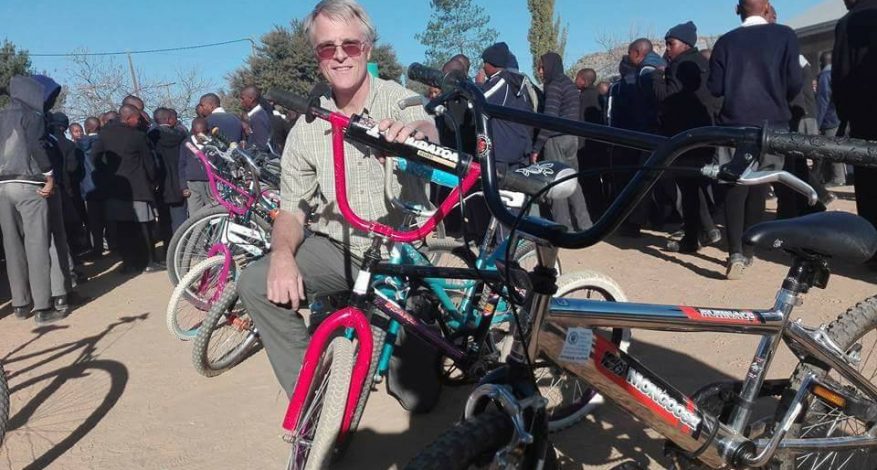 Press and Media
Dave Gorman on Bikes for Lesotho
Working Bikes is building a new cycling culture in southern Africa with Bikes for Lesotho (B4L). According to B4L founder Dave Gorman, "I had been a Peace Corps Volunteer in Lesotho 25 years ago and had returned twice since then. In all that time, I had never seen even one bike! Combined with that, I'd read in 2012 that the estimated number of orphans largely due to the HIV/AIDS crisis had reached 100,000. That's when I resolved to send bikes to those kids simply for the purpose of giving them some joy." To date, B4L has sent 4,500 bikes, 4,000 of which were from Working Bikes.
Dave recently spent two weeks in Lesotho and saw many bikes in and around the capital city of Maseru. "It's a powerful feeling to know that most of the bikes are from the Working Bikes warehouse, that we'd collected and loaded those very bikes." For every $20 contribution to the project, a sticker with the Working Bikes logo is placed on an orphan's bike stating "this bike from Chicago comes with love from Working Bikes & (donor's name)". This has reinforced the very tangible connection of the program.
Photo courtesy of Bikes for Lesotho
During his trip, Dave helped his project partner, Tumi, to deliver bikes to orphans at schools and orphanages. Dave also witnessed the daily coming and going of customers at Tumi's Bike Shop. "Tumi has successfully mixed charitable giving into his business. As a result of his providing free bikes to orphans, he has become famous throughout the Kingdom, which has helped his shop to prosper."
B4L is working on a new plan to encourage more entrepreneurs like Tumi to establish the first shops in towns in the rest of the country, where bikes are currently rarely seen. In fact, Dave met with King Letsie III, Prince Seeiso, the Peace Corps-Lesotho Director and others to solicit their input and assistance. Bikes are transforming the country and Working Bikes is excited about furthering the special connection between Chicago and Lesotho. More information is at https://www.facebook.com/BikesForLesotho/.