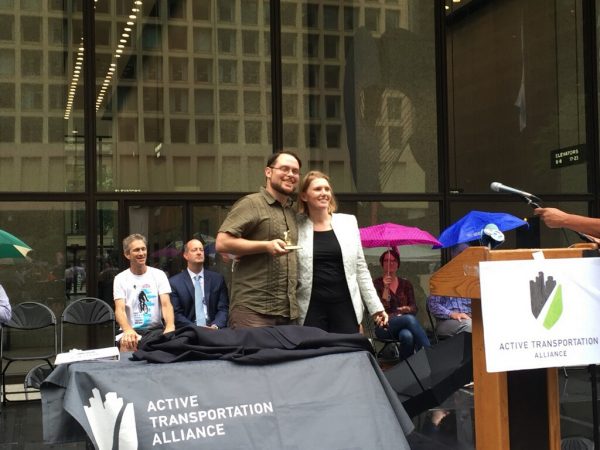 News
Working Bikes Recognized For Local Donation Efforts
In our effort to redistribute bikes and assist in transportation equity, Working Bikes provides bicycles globally and locally. Our local donation program is aptly named the Cycle of Power along with a kids' component called Cycle of Peace. In these programs, bicycles are donated to referred individuals as well as large groups through partnering organizations, typically in a form of an event.
We were able to help one such group in partnership with Rose Mabwa, Senior Manager at The Community Builders – Oakley Square division. On June 10, Working Bikes provided 30 adult and kids bikes to residents in East Garfield Park. To our surprise Rose presented Working Bikes with a plaque in appreciation of providing donations and supporting the community.
Less than a week later our programs were again acknowledged. During the annual Bike to Work Rally at Daley Plaza on June 16th, Working Bikes graciously accepted the Mayor's Bicycle Advisory Council (MBAC) Award from the Chicago Department of Transportation for giving 1,000 bikes to children in Bronzeville in North Lawndale, giveaways that were partnered with Angela Ford of the TAG Foundation. The award is given to organizations that have helped improve cycling in Chicago which is what we strive for in our Cycle of Power and Cycle of Peace programs.