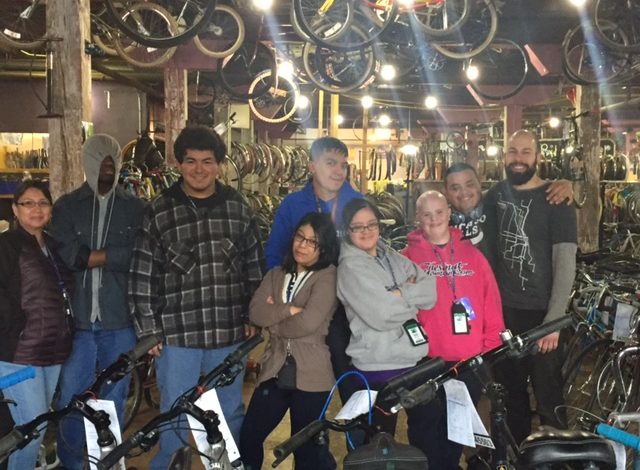 News
Inclusion Through Expanding Partnerships
Working Bikes has expanded programming for individuals with intellectual disabilities. The following is a description of Vaughn Occupational High School's experience at Working Bikes written by Amanda Neuman, their teacher and chaperone:
"Vaughn has been collaborating with Working Bikes for two years on a biweekly basis. The collaboration has created invaluable experiences for the students and Working Bikes. While at Working Bikes, students are exposed to authentic vocational and volunteer experiences where they can learn skills necessary for team-work, basic bike maintenance, and the importance of giving back to the community- all while lending a helping hand to the organization. Aside from the skills learned it helps build the student's confidence and motivation for post-secondary goals. Working Bikes has opened their arms to the young adults at Vaughn Occupational School and the results have been incredible. It is a relationship we hope to keep for many years to come.
Photo credit: Amanda Neuman
"Vaughn Occupational High School serves students with mild-moderate intellectual disabilities, autism, social and emotional needs, and physical disabilities. Vaughn's mission is to teach its students individualized, functional academics, emphasizing occupational development and independence. A focus on social and emotional growth is a key part of Vaughn's philosophy. Vaughn is one of the a few schools recognized for its excellence in providing integrated programs that include students and adults with non-disabled peers from other schools and within the community. Students are also integrated through strong community and business partnerships."
The Vaughn students have learned how to operate a bike stand, grease stems, and prep bikes for shipment. They help clean bikes and inflate tires. Working Bikes volunteer Paul Konkoly co-instructed this year's program, sharing his enthusiasm and knowledge with the students and occasionally bakes treats to share with everyone. Working Bikes would like to thank Paul Konkoly for assisting and sometimes leading the Vaughn School group, recognize Volunteer Coordinator Andrew Bermudez for his patience and excellent instruction, and wish the Vaughn School students and staff a wonderful summer.