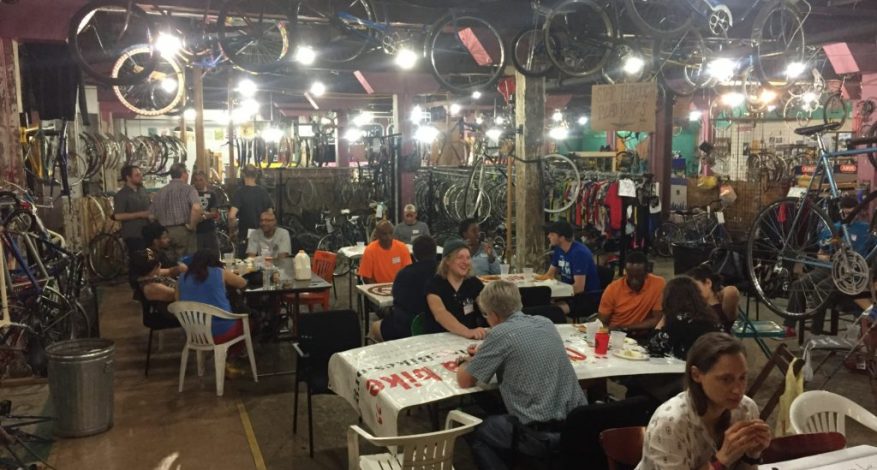 Press and Media
On The Table 2017: Transportation Equity, Goat Stew, and A Video
On Tuesday, May 16, Working Bikes hosted our second On the Table dinner. On The Table is an event sponsored by Chicago Community Trust, in which thousands of Chicago area residents pull up a chair at gatherings around the city to discuss the future of our communities while sharing a meal together. Working Bikes used this opportunity to bring together those of the bicycle community, organization supporters and partners, and friends.
Working Bikes was proud to host 45 dinner guests to discuss transportation equity and the role of bicycles as tools of empowerment. Partner organizations such as Esperanza Community Health Center, The Resurrection Project, Saint Sabina Employment Resource Center, Vaughn Occupational School, Bikes for Lesotho and Friends of the Major Taylor Trail sent representatives to discuss our shared interests, assets, and struggles. Guests enjoyed Birria and vegetarian mole from Birrieria Zaragoza while pondering how we can use our partnerships to truly "Act up" in the name of peace, justice, and bike grease
It is inspiring to be able to collaborate with so many organizations in our city that do not traditionally utilize bicycles, but that wholeheartedly pursue the opportunity to share the love of two wheels with their clients and constituents. As we continue rescuing, recycling, refurbishing, and redistributing bicycles, everyone at Working Bikes is thankful for the opportunity to reflect and break bread with each other.
On the heels of On The Table is the Acting Up Awards, an intentionally small grant for projects or programming for OTT hosts to utilize as a grassroots approach to improve their community. Our proposal focuses on putting together follow-up events for our local donation programs, Cycle of Power and Cycle of Peace. Watch and like our video proposal on YouTube!