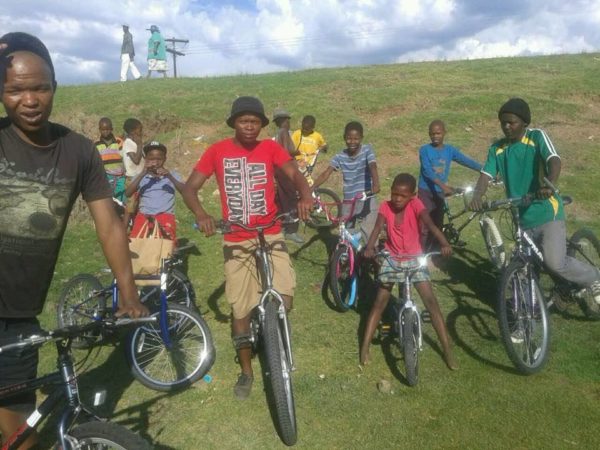 Archive
Bikes for Lesotho is a labor of love
In 2012, I was troubled when learning that the estimated number of orphans in the Kingdom of Lesotho had reached 100,000.  I was a Peace Corps volunteer there from 1989 to 1992 and returned a couple times since then, seeing the growth of HIV/AIDS to the extent that it now afflicts an estimated 30% of the adult population.  What I also saw was the incredible resilience of children in Lesotho, experiencing joy and enthusiasm in the midst of poverty and hardship.  I wanted to do something to help those orphaned kids to experience fun.  The answer came to me in the middle of the night–BIKES!
I realized that I'd never seen even one bike in Lesotho.  Being a lifelong cyclist, I'm embarrassed to admit that this took so long to strike me.  I searched online for "bikes" and "Lesotho," discovering that the Mike's Bikes Africa Foundation in California had just sent a few dozen bikes to an entrepreneur by the name of Mr. Tumi Taabe. He started a bike shop near the capital city of Maseru.  I contacted Mike's Bikes and asked how I might help.
Sponsoring a shipment of 500 kids bikes out of San Francisco would cost $20,000.  (Our model of giving away small bikes to the poorest of kids is unusual since other charities only provide adult bikes for sale.)  I convinced my friend Jeff Teppema into helping to raise this amount, and Bikes for Lesotho was born!
To inspire contributions, we announced that we would ride our bikes around the southern half of the Kingdom, one to two miles in altitude through the mountains.  Our trip was successful, generating a lot of media attention both at home and in Lesotho. We were able to raise the $20,000.
Since Jeff and I started Bikes for Lesotho, Tumi has become our close friend.  He is frequently featured on television, radio, and in newspapers and his bike sales are going strong.  The bikes we provide also support a network of men and women that do incredible work mentoring kids, hosting races, and teaching mechanics.  Tumi has also recently been coordinating with two other start-up bike shops.
The biking culture is growing quickly in Lesotho.  Community races are held monthly, the Lesotho Sky cycling races are an international draw, and the Lesotho Sufferfest cycling team competes internationally. Furthermore, men and women are gaining income as bike mechanics. People are also saving money by forgoing a bus or taxi and want bikes for recreational use.
Fast-forwarding to now, Bikes for Lesotho now works with Working Bikes. We've sent six containers totaling 3,500 bikes.  Costs have come down greatly and the sponsorship amount of just $25 per bike covers all costs: shipping, repairs in Lesotho, and distribution to kids.  This has become a labor of love for all involved.  Jeff and I are volunteers (a music teacher and a civil engineer), and we have no overhead.  Sponsoring our bikes is among the most affordable, direct and simplest ways to immensely improve a child's life.  In 2017, we anticipate two shipments totaling 1,000 bikes, as we did in 2016.
We are very fortunate to have the assistance of so many to make this wonderful project possible.
This post was written by Dave Gorman, an assistant director of public works for the village of Lombard, IL and co-founder of Bikes for Lesotho. For more information on Bikes for Lesotho, please visit their Facebook page.