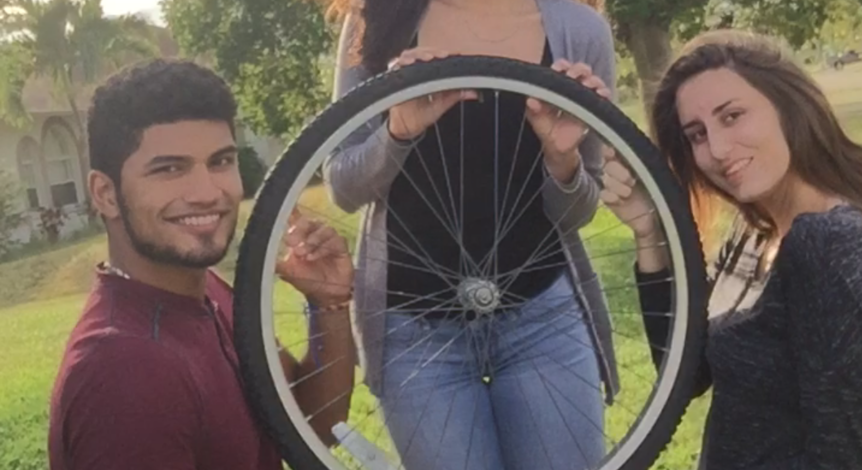 Archive
Making a global impact with Working Bikes
We are members of our school's Model United Nations, an international debate team, where we recently we won first place at the Naples Council on World Affairs for detailing a plan regarding the Syrian refugee crisis: purchasing and shipping bicycles to a refugee camp in Jordan currently housing over thirty thousand people. The plan would enable them to access school and provide an affordable and efficient method of transportation.
While born theoretical, the three of us–Daniela, Javier, and Stefania–decided to manifest this as close to reality as possible.
To launch our program, we are focused heavily on fundraising, such as organizing a walk/bike-a-thon in Cape Coral, Florida to collect donations to allocate towards a non-profit that would pay and ship bicycles to refugee camps. However, we ran into a problem.
While our original plan was dedicated towards Syrian refugees and their relief, we found that no organization was able to ship equipment to Middle Eastern nations. This was due to the fact that bike repair shops had to be built and the region was too insecure to send volunteers to fulfill positions as needed.
Currently, we are in partnership with Working Bikes, who is transforming our 20-page outline for a make-believe competition into a stroke of pure humanity in reality.
We are overwhelmingly passionate for the well-being and security of those experiencing barriers in their lives, particularly children who one day could grow-up to reconstruct their home country (an idea made possible with the transport access to education).
Hours upon hours have been devoted towards researching the lives, values, troubles, and weight carried on the global community. We have inspired forty committed International Baccalaureate (IB) students to collect donations for our cause.
The main event of the project is our Make a Difference Bike/Walk-a-thon scheduled for December 10th at Cape Coral High School. The date of our event will sit on one of the founders' birthday, and as painfully cliche it is, she adores the fact that the celebration of her service project shares her turn into adulthood.
Our goal is to raise $2,000 to directly donate to Working Bikes. We have gained support from various local businesses and the Naples Council on World Affairs, which facilitated the original Model UN Syrian Refugee competition.
This project is an invaluable, incredible, and humbling opportunity to leave a small, but significant impact on those being delayed of their human rights. We await the success of empathy to come. We await another victory for kindness.
This post was written by Cape Coral High School students Daniela Barata, Javier Diaz, and Stefania Lugli.