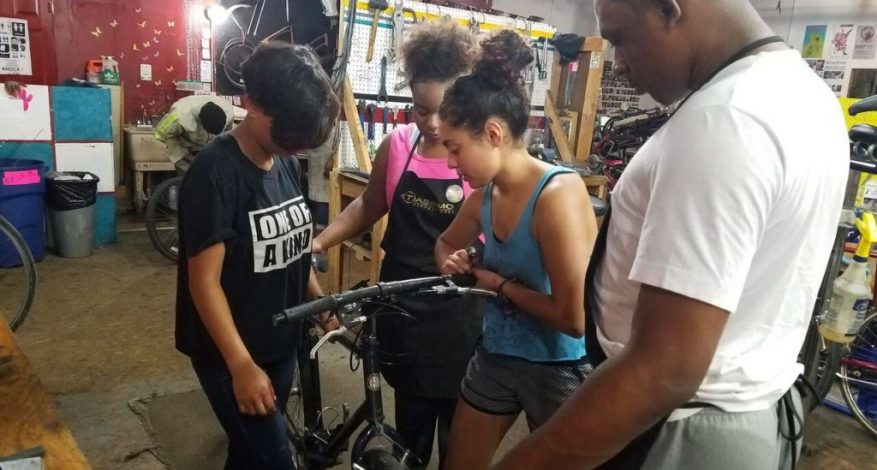 Archive
What we learn: youth and Ujamaa
During one of Working Bikes' volunteer sessions, I witnessed the collaborative work the young people of Englewood's Ujamaa Community Land Trust completed with our ONE Summer Chicago youth. This gave me pause. The bicycles they worked on were discarded, and here they were being transformed with some lubricant, some education, and a lot of elbow grease.
Ujamaa, known as the fourth principle of Kwanzaa, speaks to Cooperative Economics. It is sometimes translated "I am because we are" and goes well with Ujima, which represents the third principle of Kwanzaa of Collective Work and Responsibilities.
On October 20th, Working Bikes brought our bicycle education to the BRAVE youth leaders of Saint Sabina in Auburn-Gresham. It was a follow up to our Cycle of Power event on Labor Day weekend and a great reason to bring our fix-a-flat workshop to the far South side of Chicago.
Currently, many of the teens and young people who come to our warehouse in the Heart of Chicago come from North and South Lawndale, Brighton Park, Gage Park, and Pilsen. Our hope is that by continuing to reach past the borders and boundaries which divide our city, we can continue to find the next generation of bicycle mechanics, organizers, peacemakers, and engineers.
It may sound a stretch to believe that a fix-a-flat can do all that, but I like to think we're all teaching each other about more than bikes, but also about strength and sustainability.
Sometimes, we as cyclists on the South and West sides feel like the infrastructure arrives too slowly, or not in the way we would prefer. There is not equity in budgeting and development can feel less than transparent.
It is in passing our knowledge to the youth and in preparing them for opportunities that may arise in the future that we really work for substantial change. It is the youth who will repurpose the bicycles, and more, in the future.
This post was written by Paul Fitzgerald, general manager of Working Bikes.