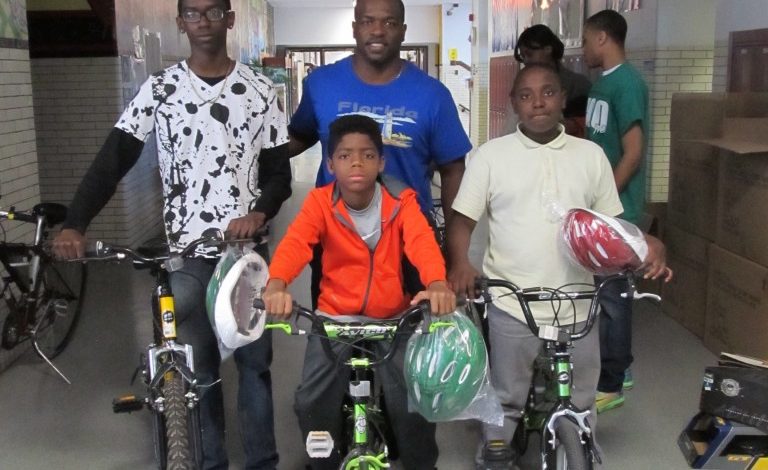 Archive
Bronzeville Bike Giveaway a Success!
This spring Working Bikes volunteers worked steadily to repair 500 kids bicycles in just a few months. Many of the bikes came from a stock pile of children's bikes–Kiddy Bike Mountain, as it's called–that usually grows on our dock all year, reaching the ceiling by the time we have our annual Holiday Kids Bike Sale in December. But this year Kiddy Bike Mountain was temporarily leveled, combed through by volunteers looking for bikes to repair for our largest local donation to date.
On Saturday, May 24, Working Bikes and the T.A.G. Foundation partnered to distribute these bicycles to youth in Chicago's Bronzeville neighborhood. The donation was the brainchild of Angela Ford and the T.A.G. Foundation, an organization that aims to revitalize Chicago communities by promoting healthy and sustainable lifestyles. Ford organized the giveaway in the hopes that the bikes will help to develop a culture of cycling in Bronzeville, encouraging youth to be active and to explore their city.
The giveaway was hosted by Wendell Phillips Academy High School, which lent use of its auditorium and classrooms for the day. Families began to line up at 7am, forming a queue that wrapped around the block. Once in the building, kids went to the auditorium for a presentation about T.A.G. and the value of bicycling, then moved to classrooms for a lesson on safe riding techniques, and then to another classroom to select their bike. In the hallway, Working Bikes volunteers adjusted seat heights and filled tires with air when needed. Kids picked up a helmet and lock before making their way outside to a lot where the Chicago Bike Ambassadors ran a brief safe riding lesson/obstacle course.
It was a very fun day, and a great start to this year's local donation efforts. Over the past few years, Working Bikes has begun to increase our local donations here in Chicago. We hope that programs like this will help us to reach our goal of donating more bikes to those in need in Chicago, while maintaining our commitment to donating 5,000-6,000 bicycles internationally.
Click here to see video coverage of the project on WGN Channel 9 News.
Photos courtesy of Marie Akerman.