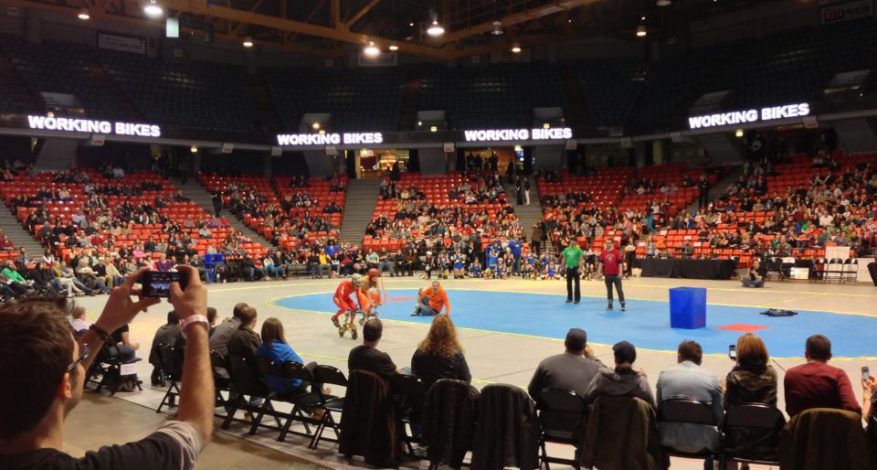 News
Working Bikes at Windy City Rollers Derby
On Saturday April 20, Manager Paul Fitzgerald appeared during the half time show of the Windy City Rollers Derby to receive a check for $500. The Fury, one of the home teams in the league, had selected Working Bikes to be their charity beneficiary for the 2013 season.
As Fitzgerald graciously received the check and spoke about Working Bikes to the audience, Volunteer Chair Sujith Kumar walked into the ring dragging a trash can full of discarded bikes. Lamenting the fact that Chicago contributes hundreds of bikes to the waste-stream every year, Kumar asked Fitzgerald what could be done with such refuse.
Fitzgerald suggested a mini bike race around the track, and called for his mini bike racer, with whom he always travel. Wearing a bright orange, skin tight outfit, with Fury logo prominently displayed on the chest and crotch, Sybil Disobedience entered the ring, ready to race.
Seeing as Fitzgerald brought his own ringer, Kumar thought it only fair to have a raffle in order to select the 2nd racer. Upon calling out the winning seat, a young man by the name of Frank Pro Bro-no, entered the ring. Pro Bro-no removed his street clothing to reveal a bright red, skin tight, single piece track suit, which he conveniently wore to the Derby.
Fitzgerald started the race, and it was neck and neck until the very end when Sybil Disobedience took the lead and won by a hair. As the racers circled the track, the new Working Bikes Anthem was debuted by volunteer and rock star, bk elmore.